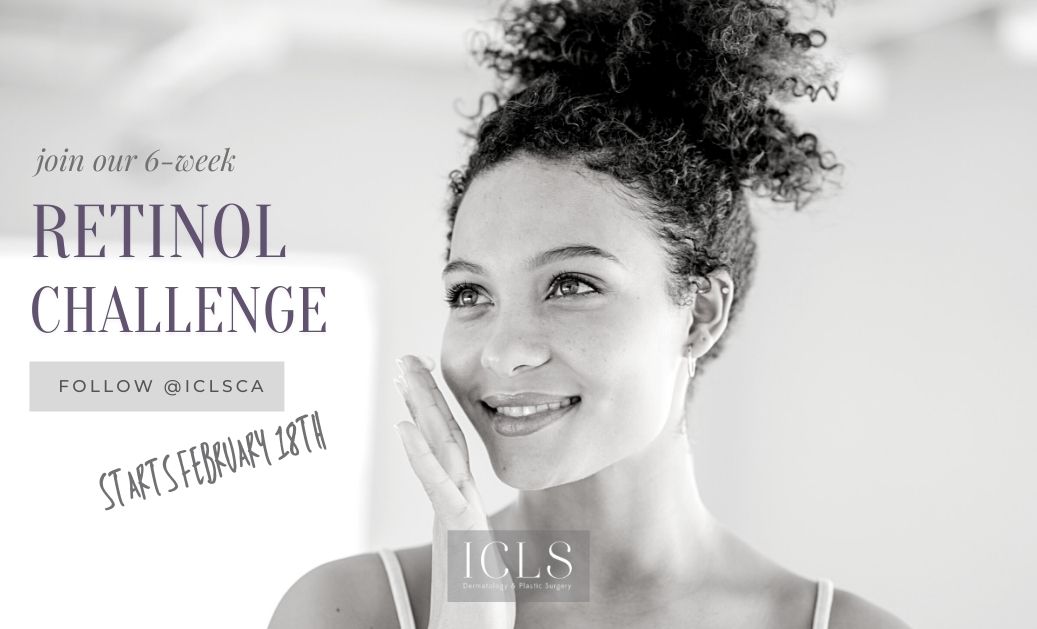 Just in time for a spring refresh, join us for a 6-week Retinol Challenge. Retinol is a powerhouse product with great success in correcting mild scarring, fine lines and discolouration. Each winter, ICLS recruits three staff volunteers for a 6-week journey to better skin working Retinol into their daily skin regimen and to share their results on Instagram. Follow along @iclsca. And find everything you need to know about getting started with a Retinol regimen. Save 15% on Retinol purchases until March 18, 2022 on The Skin Store.
What is Retinol?
The term "retinoids" is a catch-all for an array of vitamin A-based products used on skin. Retinol is a gentler version that's used in over the counter skincare.
What are the benefits of using a pharmaceutical-grade Retinol?
Retinol can improve the appearance of visible signs of aging while minimizing breakouts. They are a powerhouse product that can:
Increase cell turnover
Help build new collagen
Reduce pores, acne, fine lines
Minimize pigmentation & redness
How do I use Retinol?
The first rule to Retinol is to go "low and slow." For the first week, apply Retinol once every 3rd night, working up to every other night by the third week. Apply in the evenings after cleansing skin.
Which Retinol percentage should I use?
The higher the percentage (%) the stronger the formulation. Beginners may want to start with a lower percentage like 0.05%. If you have sensitive skin, 0.03% might be a better choice. You can always consult one of our Skin Care Experts for a product recommendation. 
Will my skincare routine change when using Retinol?
That depends on what products you're using, or not using, already. It's important to wear a minimum of broadband UVA/UVB 30 SPF every day during this period. Since Retinol accelerates cellular turnover, your skin is more susceptible to UV damage. Add a moisturizer at night if the product makes you dry. Steer clear of products with Salicylic acid, Hydroquinone, Glycolic acid, AHAs or BHAs while using Retinol.
What are the side effects of retinoids?
It is normal to experience dry skin, flaking, redness and/or peeling in the first couple of weeks. This is called the "purge period" and it is imperative to continue with the Retinol to reap the benefits. If at any time you are concerned or have a worrisome reaction please discontinue use.
When should I start a Retinol regime?
There's no wrong time to start a Retinol regimen! Start low and slow and wear sunscreen daily to protect that fresh, new glowy skin. Contact our Skin Care Experts if you have any questions!