Plastic Surgeon
Meet Dr. Julie Khanna

As one of Canada's leading cosmetic plastic surgeons for 25 years, Dr. Julie Khanna looks beyond the surgical procedure to the patient as a whole, from inner self to outer beauty. Each procedure is unique to each patient. The best results come from first understanding the patient's needs and desires, and then providing a tailor-made solution that meets the personal expectations of that patient.

Dr. Khanna takes the time to inform her patients of the most modern methods of cosmetic surgery available, enabling them to make informed choices about their own procedure.
I'm here to educate my patients about all the options available, and help them decide what's appropriate for their lifestyle and the desired outcome."

While she helps both men and women, Dr. Khanna addresses the special concerns of her female patients. "Many of my patients prefer a surgeon who they believe understands their needs and how they feel about their bodies. We want every patient to be happy with their appearance and satisfied with their experience here.
As a female surgeon, Dr. Khanna is uniquely positioned within the field of plastic surgery where most patients are female. She offers an authentic understanding of the female body, including what pregnancy and breast feeding does to women, and how the female body evolves over time, from motherhood to menopause. She works to create a tailor-made solution for every patient and strives to provide patients with a superior experience before, during and after surgery. 
Dr. Khanna co-founded ICLS with her husband and fellow physician, Dr. Sheetal Sapra. She began her undergraduate studies at the University of Toronto, received her medical degree from the University of Ottawa, and completed her training in plastic surgery at McMaster University. She is certified by the Royal College of Physicians and Surgeons of Canada and a Diplomate of the American Board of Plastic Surgeons. In addition to her private practice at the ICLS, she is an attending plastic surgeon at the Oakville Trafalgar Memorial Hospital. Dr. Khanna is a member of the Canadian Society of Plastic Surgeons, Canadian Society of Aesthetic Plastic Surgery, the American Society of Plastic Surgeons and the American Society for Laser Medicine & Surgery.

In her practice outside of the clinic, Dr. Khanna works with non-profit organizations that help children with facial deformities, such as cleft lip and palate.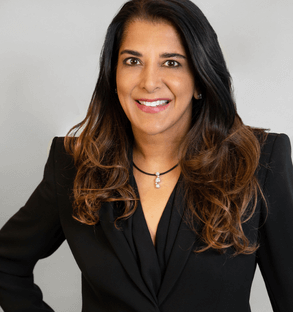 Patient Reviews
I reached out to Dr. Khanna for a second opinion regarding a mole removal. I loved her demeanour and approach, and feel 100% confident she'll do a great job giving me the results I want. She was extremely straightforward, explained everything  thoroughly, and was great at taking into account my own personal experience and history instead of a one-size-fits-all approach. Shout out to Ashley for being an absolute sweetheart, extremely helpful, knowledgeable and reassuring, especially in the time of COVID.
Getting a breast lift and a tummy tuck by an experienced plastic surgeon were the only possible solutions for me. Everything went so well, and the result was so naturally beautiful that not much later I decided to go back to Dr. Khanna for another cosmetic procedure. Dr. Khanna performed labiaplasty for me and again the recovery and the result were nothing but amazing. I can't recommend Dr. Khanna and her team enough. I couldn't be any happier about my makeover.
ICLS is simply amazing! They're friendly, thorough and very professional. Dr. Khanna, is awesome and won't recommend anything you don't actually need. She will make you feel comfortable and you will walk away knowing you are in the best hands.