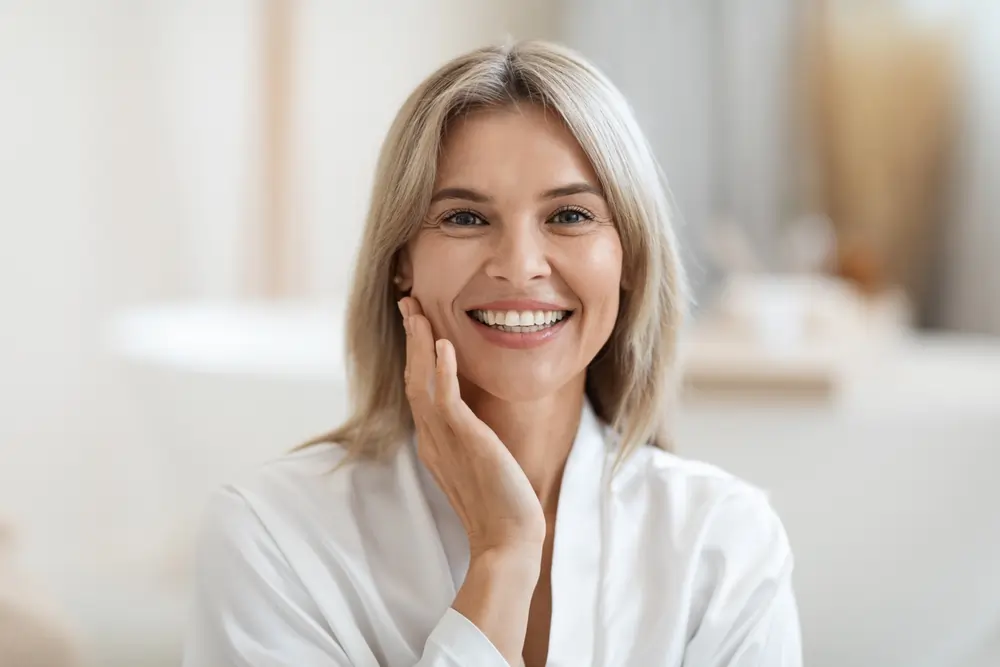 Exploring the dynamic world of skincare can be overwhelming as our skin evolves over time. Fortunately, non-invasive skin-tightening treatments exist to rejuvenate your skin. 
If you're considering these treatments, it's normal to feel uncertain about what lies ahead. At ICLS, we're here to alleviate your worries by providing expert guidance on the science and safety of each treatment. 
We're committed to equipping you with all the necessary information to instill confidence in your decision to undergo skin tightening. In this article, we'll address common questions you may have, such as the function of skin tightening treatments, its benefits, and the potential existence of any side effects. 
Let's dive right in! 
What are the Mechanisms and Advantages of Skin Tightening?
Skin tightening procedures utilize a precise and secure technique, applying controlled trauma to deeper skin layers. This stimulates the natural healing process, triggering collagen production—a crucial protein for skin structure. Collagen production declines with age, resulting in skin laxity, fine lines, wrinkles, and sun damage visibility. 
Non-invasive skin tightening treatments target these concerns, reducing skin laxity, fine lines, and wrinkles while enhancing overall skin tone and texture. These procedures typically require minimal to no downtime, allowing you to continue daily activities without interruption. Best of all, the results are natural, enhancing your unique beauty and leaving you with a refreshed, rejuvenated appearance.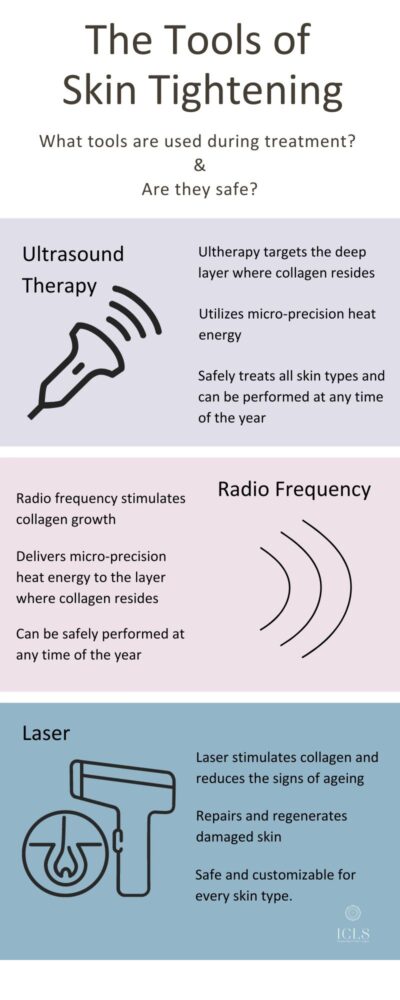 Are Skin Tightening Treatments Safe?
A recent study published in the Journal of Cosmetic Dermatology (2023) established the long-term safety of ultrasound skin-tightening devices. The rigorous FDA and Health Canada approval process further validate the safety and efficacy of our non-invasive skin tightening treatments. Rest assured, our procedures are backed by scientific research and regulatory scrutiny to ensure your well-being. 
It's worth noting that some individuals may experience post-treatment symptoms, including redness or bruising in the treated area. However, the good news is that these symptoms typically resolve within a week after the treatment, allowing you to enjoy the long-lasting benefits without prolonged inconvenience.  
Non-Invasive Skin Tightening Treatments at ICLS
ICLS provides cutting-edge skin tightening treatments targeting facial and body skin laxity. Utilizing non-invasive technologies like radiofrequency (Thermage®, Profound®) and ultrasound (Ultherapy®/Ulthera), these treatments penetrate the subcutaneous tissue layer. By stimulating collagen production, they effectively lift, tone, and tighten the skin, resulting in a remarkable improvement in overall skin appearance. 
Thermage
Experience the power of Thermage's precision radiofrequency technology. It stimulates collagen growth, tightening your skin and restoring its youthful appearance. By delivering micro-precision heat energy directly to the collagen layer, Thermage bypasses the surface, triggering immediate collagen contraction and accelerating healing. Suitable for all skin types, Thermage provides consistent results year-round. 
Profound RF
Profound RF is an advanced non-surgical treatment that utilizes radiofrequency (RF) technology to address various skin concerns, including skin laxity, wrinkles, and cellulite. It delivers precise heat energy to the deeper layers of the skin, stimulating the production of collagen, elastin, and hyaluronic acid.  
This combination of technologies promotes skin tightening, improves skin texture, and enhances overall skin quality. Proven to be safe and effective, Profound RF offers long-lasting results with minimal downtime. 
Sylfirm RF
Sylfirm RF is a cutting-edge skin rejuvenation treatment that uses radiofrequency (RF) technology to address various skin concerns. It is specifically designed to target pigmentation issues, such as melasma, hyperpigmentation, and age spots. The RF energy is delivered to the skin in a controlled manner, promoting collagen production and reducing pigmentation irregularities.  
Sylfirm RF is a non-invasive procedure that can improve skin tone, texture, and overall complexion. It is a safe and effective option for individuals looking to achieve a more even and radiant skin appearance. 
Ultherapy
Ultherapy is a non-invasive cosmetic procedure that uses ultrasound technology to lift, tighten, and rejuvenate the skin. It is FDA & Health Canada-approved and commonly used for non-surgical facelifts and neck lifts. During the procedure, ultrasound energy is delivered deep into the skin, targeting the foundational layers that are typically addressed during surgical facelifts. This energy stimulates the production of collagen, which helps to improve skin elasticity and firmness over time.  
Ultherapy can effectively lift sagging skin, reduce the appearance of wrinkles and fine lines, and improve overall skin tone and texture. It is a safe and popular option for individuals seeking a non-surgical approach to skin tightening and rejuvenation. 
Bonus tip: We place a specific emphasis on customized solutions. Our non-surgical skin tightening treatments are mere tools in our toolbox. With our diverse array of choices, there is something available for everyone's unique requirements. 
Why Choose ICLS
?
With an esteemed dermatologist leading the way for over 30 years, ICLS is committed to providing exceptional care. Our team consists of highly skilled and experienced nurses who are dedicated to assessing and delivering top-notch treatments. Your safety is paramount to us, and we prioritize it above all else. At ICLS, we have built our reputation on placing our patients first, ensuring safety, respect, and professionalism are the cornerstones of our practice.  
Ready to Start Your Unique Skin Care Journey with ICLS?
Experience the dedication and passion of our aesthetic nurses and physicians who will accompany you on your transformative skincare journey. As one of the largest medical aesthetic practice in the Greater Toronto Area, you can ensure your journey is guided with care by medical experts.  
Schedule a consultation with one of our experienced nurses to receive a personalized plan tailored exclusively to your unique needs, goals, and budget. Our comprehensive 360° approach to skincare encompasses discussions on treatment homecare and complementary options, ensuring you are fully equipped for success.