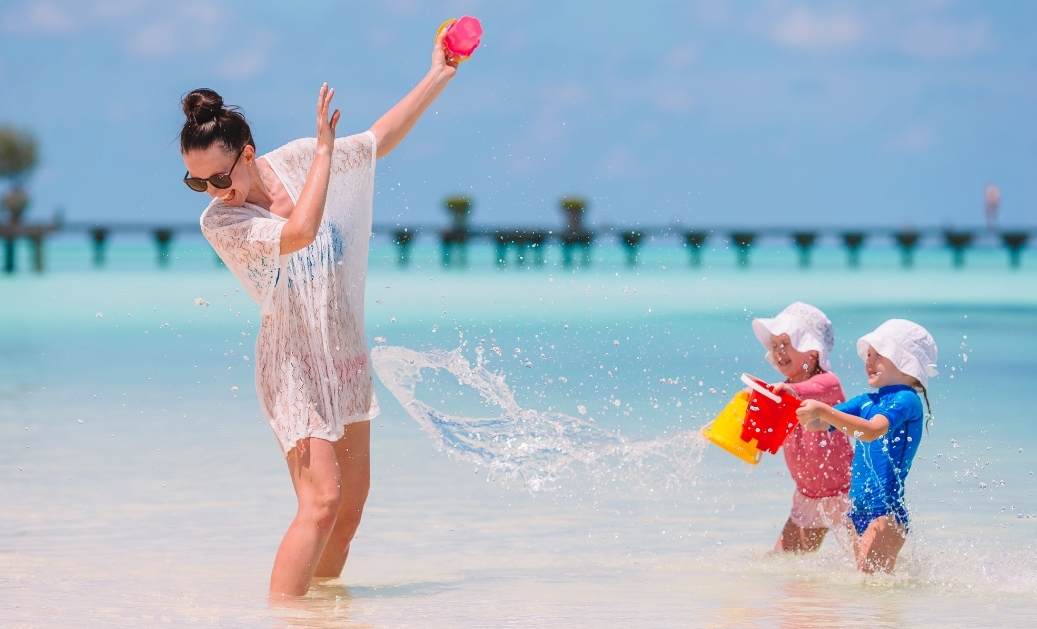 After a long, cold winter and a not-so-mild spring, summer is finally here! Spring and Mother's Day may be over, but that doesn't mean you have to forego some much-needed pampering.  Instead of treating yourself to just a spa day or facial to get ready for summer, consider indulging in longer-lasting treatments with these top aesthetic body procedures for toning, firming, and sculpting your post-baby body.
Microneedling for Improved Skin Texture and Correction of Stretch Marks
Usually associated with anti-aging wrinkle treatments, microneedling reduces stretch marks left behind by pregnancy. During the procedure, tiny needles rolled over the surface of the skin create imperceptible punctures, triggering the body's natural healing response. Once the microneedling is completed, platelet-rich plasma is applied to the area to help accelerate healing and further diminish the appearance of stretch marks. Microneedling is a great option for women who may not need surgery but would still like to improve the texture and appearance of their skin.
Abdominoplasty for the Correction of Excess Skin Post-Pregnancy
Better known as a tummy tuck, abdominoplasty is a surgical procedure which tightens abdominal muscles to restore core structure. Excess skin is removed, creating the smooth and lean contours patient experienced before pregnancy. For women who have mild to moderate degrees of skin laxity in the midsection, mini tummy tucks can help you meet your aesthetic goals. Rather than targeting the entire abdominal area, mini tummy tucks focus on the soft tissue below the belly button.
Liposuction for Fine-Tuning Your Figure and Erasing Stubborn Fat
For some women, pregnancy can leave a little extra fat around the waist and hips. Even more frustrating, this extra tissue is often resistant to exercise routines, making it almost impossible to get rid of without aesthetic medicine. A liposuction is an excellent option for smoothing out stubborn bulges of excess fat and leaving behind a refined silhouette. Compared to other surgical options, liposuction is less invasive and requires less time in recovery.
Breasts Lifts (Mastopexy) After Breastfeeding & Weight Fluctuation
Not only does gravity take a toll on the skin, so does pregnancy – this is especially true for breast tissue. Postpartum patients often notice their breasts lose volume after the fluctuation in size from pregnancy, breastfeeding, and weight changes. The result can be a level of skin laxity and sagging they hadn't experienced before.  Enlarged and darkened areolas are also common aesthetic changes resulting from pregnancy.
A breast lift (provided alone or in conjunction with augmentation) is an excellent way to correct breast drooping, restoring their former position on the chest wall. For women who have lost volume but have good skin elasticity, augmentation with silicone or saline implants can add fullness and projection. For others who are happy with breast volume but not position, a breast lift provided by itself may be the right choice.
Not Ready for Surgery?
While plastic surgery is the right fit for some patients, there are others who are not interested in or who do not need invasive aesthetic treatment. Healthy diet and exercise supplemented by non-surgical cosmetic procedures can also help women achieve a figure they feel confident in. At ICLS, our board-certified plastic surgeon offers non-surgical treatment options, including CoolSculpting and Profound skin tightening. These non-invasive procedures require far less, if any, downtime and offer the boost of confidence patients need to benefit from improved well-being. If you're a mom who is looking for body sculpting treatments this holiday, there are non-surgical ways to meet your needs.
Learn more at ICLS
Aesthetic treatments for post-baby body contouring can go a long way in helping women regain their confidence and sense of self. Learn more about the advantages of our many available options by scheduling your consultation with our Oakville cosmetic surgeon today!