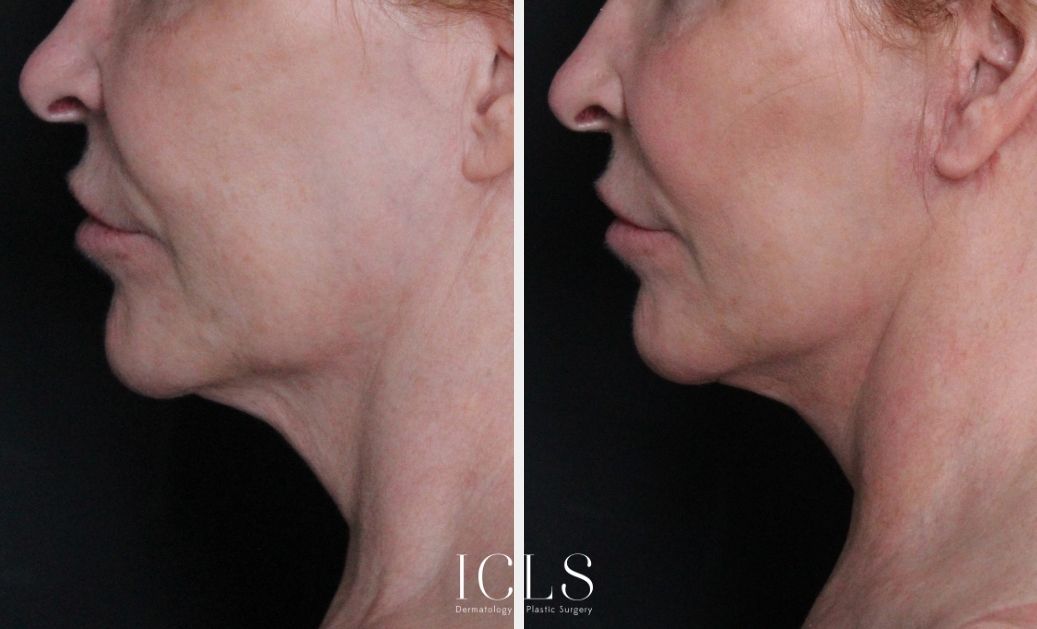 One of the most common complaints we hear from patients is excess or loose skin and fat under their chin and lower face. At ICLS we have a vast array of tools and techniques available to restore youthful contours to the jawline. Non-invasive options like injectables, lasers and skin tightening technologies are often used in combination with or without surgical procedures. This layered approach maximizes the results of each procedure, resulting in a "1 + 1 = 3" effect of facial rejuvenation.
The mini necklift is a procedure unique to ICLS, and is used to address skin laxity and create definition in the lower face. Our plastic surgeons first use VASER™ liposuction in the under chin area. VASER's ultrasound technology provides the benefit of skin tightening as it breaks apart fat cells. This is then followed by radiofrequency skin tightening using Renuvion™. This powerful combination of skin tightening results in an immediately more defined jawline. What's even more remarkable is that the effects continue to enhance over time as the body builds new collagen. 
The "mini" part of this procedure refers to the size of the incisions. Since a mini neck lift requires only tiny incisions, it can be done under local anesthesia, meaning less scarring, less risk and a shorter recovery time. In fact, most patients take little to no time off at all. While healing and afterwards, the placement of the incisions are quite inconspicuous.  
Kelli, a recent mini necklift patient, recalled her recovery experience:
"The first couple of days I had some mild discomfort and swelling but icing really helped to alleviate that. You must wear a compression garment 24 hours a day for the first week. I work in an industry where we wear PPE, so I could easily get away with wearing it at the office, but I still took a couple of days to recover. Scheduling just before the weekend is a good idea too. 

Within days I was comfortable being out in public with my hair down and a little make-up (usually while my compression garment was drying after a wash). I had been treating my skin pre- and post-procedure with Alastin Skin Nectar, which helped a lot with the bruising. Any bruising that I did have was minimal and dissipated quickly. 

The immediate results are impressive and I expect as the Renuvion effects kick in, they will continue to improve. I believe that this procedure is a real game changer for the lower face."
Good candidates for a mini neck lift are individuals who have mild to moderate laxity in their jawline and neck, and who may not want or need the downtime associated with a full neck lift or facelift procedure.
 Curious if you are a candidate for the mini neck lift? Contact our patient coordinators today.