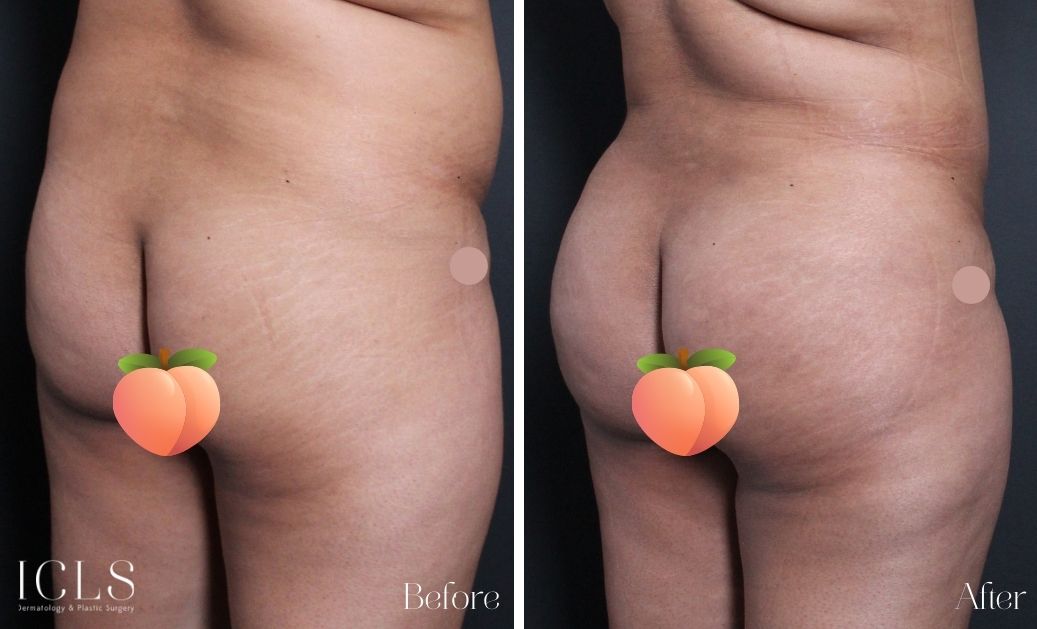 Interest in plastic surgery procedures tends to wax and wane with the seasons. This past year's endless virtual meetings focused our attention squarely on our faces, resulting in a "Zoom boom" of requests for procedures above the shoulders. Now summer's skin-baring temperatures have made us much more conscious of our bodies. As a result, we are seeing a renewed interest in scheduling body contouring procedures for fall, particularly the bum.
So what goes into creating the perfect peach? Let's unpack the options.
ICLS offers a variety of ways to augment the buttocks and backside, from non-surgical to surgical. While our approach to each patient is unique, most patients' desires are the same – to restore the fullness and curve of their buttocks after pregnancy, weight loss and/or the general effects of aging.
On the non-invasive side, we can help shape the buttocks by reducing fat (through Coolsculpting) and building muscle (with Emsculpt). Sculptra buttock injections are a minimally invasive, low-risk and non-surgical option that can enhance the curve and shape of your butt. Sculptra is type of cosmetic filler, and known as the "skinny BBL" when used in the buttocks. The poly-L-lactic acid injections into the dermal layers boost your body's collagen production resulting in a fuller shape over time. Results are evident after 2-3 sessions. This can be a great option for patients who prefer subtle results or wish to avoid the lengthy recovery time associated with surgical buttock augmentation.
For the gold standard in bum lifts, of course, there is the BBL – as seen in the above before and after photo (one year post-surgery). A Brazilian Butt Lift is one of the most notorious surgeries around, and for good reason – it's an impressively effective bum lift procedure that promises excellent results without implants. A BBL is actually two procedures – the first harvests fat via liposuction from another area of the body where excess fat exists, such as in the abdomen. Once the fat is harvested, it is processed and purified, then inserted into the buttocks. Head over to our buttock enhancement page to watch Dr. Khanna explain why ICLS is a leader in delivering exceptional results with fat grafting.
Curious about which buttock enhancement option is best for you? Contact our team.