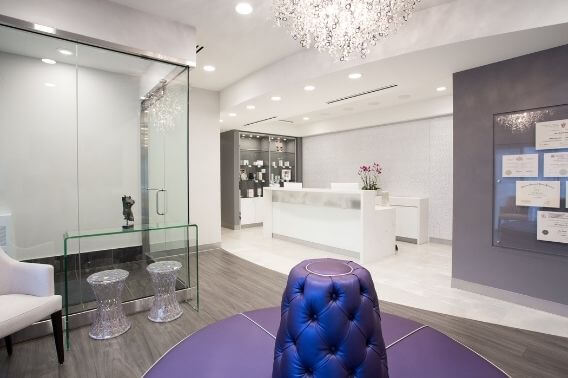 At ICLS we know that nurturing, supportive environments are the best places to grow and change. We understand that an environment where people feel safe and nurtured is what fosters the healthiest kinds of transformations. That philosophy inspires every single one of our professional staff members, all of our treatments, and yes, even every inch of our state-of-the-art facility. More than anything, we want to give you the gift of peace of mind, which is why we're incredibly proud that our surgeons are board-certified by the Royal College of Physicians and Surgeons of Canada. Dr. Khanna is also a Diplomate of the American Board of Plastic Surgeons.
What's an Accredited Facility?
How can you tell that you're in an elite medical facility? A kind and professional medical staff? A modern and luxurious atmosphere? ICLS strives to embody the very definition of a high-level medical facility at our clinic and in both of our fully-functioning General Anesthetic Operating Rooms; but wouldn't it be nice to have quantifiable proof that you're in good hands? That's what it means to receive accreditation.
Accreditation is a testament that our facility is operating on the highest levels of safety and patient care. That means that our surgical facility operates at, or beyond hospital-quality safety measures and protocols. Dr. Khanna is a diplomat of the American Board of Plastic Surgery, and a member of the Canadian Society of Aesthetic Plastic Surgery and the American Society of Aesthetic Plastic Surgeons. Dr. Zamani, who joined ICLS in 2019, is a board-eligible by the American Board of Plastic Surgery, and a member of both the Canadian Society of Aesthetic Plastic Surgery and the American Society of Aesthetic Plastic Surgeons (ASPS).
By striving for ASPS accreditation, ICLS regularly submits to rigorous inspections by an independent agency that examines every aspect of our practice. Keep in mind, receiving accreditation is not an easy task. While the ASPS accreditation was entirely voluntary, we put ourselves through the test so you can feel comfortable that you're getting your procedure in the right place.
ICLS is a private facility which is fully accredited with the Canadian Association for Accreditation of Ambulatory Surgery Facilities (CAAASF). Since its founding, ICLS has always opened its doors to both mandatory and elective accreditations. We are always running at or above hospital standards. We manage everything in-house and we have our own fully-trained staff to maintain all medical devices in use. Our entire staff from the nursing team to our physicians to our support team are all re-certified on a regular basis.
What Does Accreditation Mean for Me?
It means that as soon as you walk through the doors of our advanced surgical facility, you'll be able to receive the highest standards of patient care. Everything from food, to equipment, to our staff are ensured to meet the best standards. You'll be working with a board-certified surgeon and receive anesthesia from an accredited anesthesiologist.  At all times, you'll receive around-the-clock care.
We know more than anyone that cosmetic treatments are major, lifechanging events. We want our facility to be one less thing for you to worry about. At ICLS, we hold ourselves to an incredibly high standard so that you can breathe easy and focus on the most important things: your life, your family and friends, and improving yourself. For a consultation on any of our high quality nonsurgical procedures and surgical treatments, contact ICLS.