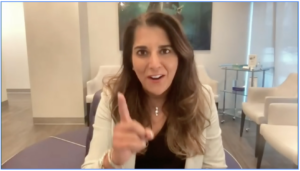 In a CTV News interview, Dr. Julie Khanna provides expert commentary on how to choose a plastic surgeon. The interview is included in a story about an Ontario woman's botched liposuction.
"While the majority of procedures are completed without issues, surgeons who deal with plastic surgery operations say with any medical procedure there can be risks.
Dr. Julie Khanna is a plastic surgeon with 25 years of experience and is not involved in Hassan's case. Khanna is the past president of the Canadian Society for Aesthetic Plastic Surgery and the medical director of Plastic Surgery ICLS in Oakville, Ont.
Khanna said that before going forward with any plastic surgery procedure, research is key and it's important to make sure the doctor is experienced and certified.
"I think whenever you're thinking about plastic surgery, the most important thing is to go to somebody who's qualified and somebody who specializes in this field," Khanna said.
Khanna said it's important to "check that they are trained by the Royal College of Surgeons and make sure that they have that designation."
"Also look at their practice, what do they do? Make sure you're going to somebody who is reputable and meet more than one doctor," Khanna said."
Click here for full article.