How to prepare for your in-person visit to ICLS
Thank you for confirming your ICLS appointment; we look forward to welcoming you. The health and safety of our staff and patients is our top priority. All individuals entering ICLS must still wear a mask or face covering. Please review these steps before your in-person visit.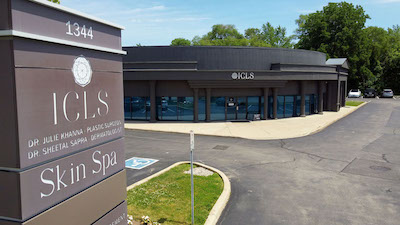 Do not enter the building if you answer YES to any of the following:
Do you have a new or worsening cough or shortness of breath? Do you have a fever (>38 degrees C)?
Do you have a sore throat, hoarse voice or difficulty swallowing? Decreased sense of smell?
Do you have abdominal pain, nausea or vomiting?
Have you been in contact with a suspected or confirmed case of COVID in the last 14 days?
In the last 14 days, have you or someone you live with travelled outside of Canada and been advised to quarantine per the federal quarantine requirements?
If you answer no to all questions, you may proceed.
Learn how we're protecting you from Covid-19.

Which entrance should you use?
Parking at ICLS is complimentary. The main doors to ICLS are for Medical Dermatology patients. Plastic surgery patients should enter through the west door marked for Dr. Khanna and Dr. Zamani. Skin Spa patients should enter through The Skin Store doors or east entrance.
PLEASE NOTE:
ICLS requires

2 business days' notice

to cancel or reschedule all appointments. 

Valid Credit Card MUST be on file.

 Missed/late consultations will be subject to cancellation fee of $120 for dermatology and Skin Spa appointments (plastic surgery fee is $250). Treatment appointments will be subject to cancellation fees $50 per half and will be charged to this card.

Charges

 may apply if you are severely late OR we may ask you to reschedule, due to social distancing protocols.