How to prepare for your in-person visit to ICLS
Thank you for confirming your ICLS appointment. We look forward to welcoming you! The health and safety of our staff and patients is our top priority. Please review the following information before your in-person visit.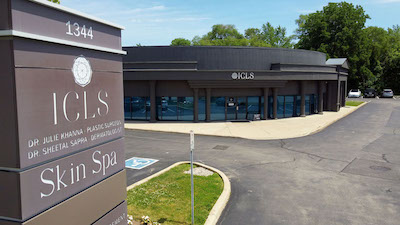 We kindly ask that you arrive 5 minutes prior to your appointment. Late arrivals may result in a cancellation fee and rescheduling.
All individuals entering ICLS must still wear a mask or face covering. Learn how we're protecting you from Covid-19.
Have your health card present for all visits to ICLS. We use this unique identifier to confirm your identity.
A valid Credit Card must be on file.

ICLS requires

2 business days' notice

to cancel or reschedule all appointments. 

Missed/late consultation appointments will be subject to cancellation fee of $120. Treatment appointments will be subject to cancellation fees $50 per half and will be charged to this card.

Which entrance should you use?
Parking at ICLS is complimentary. The main doors to ICLS are for Medical Dermatology patients. Plastic surgery patients should enter through the west door marked for Dr. Khanna and Dr. Zamani. Skin Spa patients should enter through The Skin Store doors or east entrance.
Our Skin Store is open!
Stop by our Skin Store before or after your appointment to browse our doctor-recommended brands and products. One of our skincare experts is always on hand to answer questions and help you find a product to suit your individual needs. The Skin Store is open Monday through Friday from 8am to 5pm.